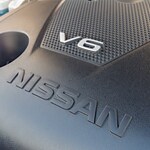 Out of all the modern-day luxury sedans that are on the market, the Nissan Maxima is a fan favorite. This four-door automobile is popular among diverse age groups thanks to its phenomenal styling. In addition to that, the Maxima offers advanced technologies and comes in numerous trim levels.
The 2020 Nissan Maxima provides an excellent road performance. Underneath the car's hood sits a 3.5-liter engine that will generate up to 300 horsepower. Pound-feet of torque comes in at 261. On top of that, this luxury sedan will get about 30 mpg on the highway as well as 20 mpg in the city. All of this power is connected to a CVT transmission. Near-perfect handling and supreme acceleration can be experienced thanks to the high-flow tuned induction system. The 2020 Maxima can also be driven in normal or sport mode.
Come and test drive this vehicle by visiting our dealership as soon as possible.